Lecia Scotford or the rise of a healthcare strategic planning expert? Hundreds of millions of dollars in construction spending is being invested in healthcare facilities around the state, most of it in Anchorage and the Mat-Su, though a new dental facility was recently completed in Dillingham. Dillingham Home to New Dental Facility Bristol Bay Area Health Corporation, or BBAHC, in September opened doors to a new, state-of-the-art dental health facility and administrative complex in Dillingham. The facility is located on the grounds of the Kanakanak Hospital and will serve the region. The dental clinic project can be attributed to BBAHC Chief Operating Officer Lecia Scotford, MD, as well as her talented projects department team.
The project took two years from beginning to end. The business plan was created during the summer of 2014 and was approved that fall. The team broke ground in June 2015. The building was completed and operational in September 2016. The building design was a partnership between BBAHC, architectural firm Livingston Sloan, and its engineering consultant teams as well as initial assistance from the Alaska Department of Environmental Conservation. The 15,531-square-foot, two-story building meets the US Green Building Council's Leadership in Energy and Environmental Design standards, meaning it uses less water and energy in order to reduce greenhouse gas emissions.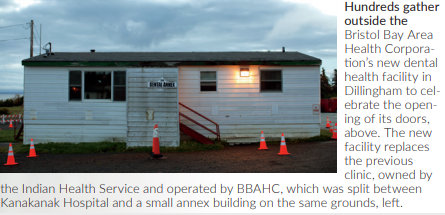 The building insulation exceeds design requirements for the area and is complete with energy efficient windows. The foundation is built to withstand a 9.2-magnitude earthquake with minimal damage. The first floor is entirely for dental services. The clinic is ultramodern, complete with hightech equipment and twelve brand new operatories, up from seven chairs that were previously divided between the dental annex and an extra room in the Kanakanak Hospital. The second floor is occupied by administrative support staff, including a business office, finance department, and an area for medical records. Alaska Regional Hospital Renovation Alaska Regional Hospital in Anchorage got a $70 million capital grant from HCA, its parent company, in 2014. The money paid for a complete facelift for the seven-floor, nearly 330,000-square-foot building. Tina Miller, chief operating officer at Alaska Regional, says no beds were added to the facility during this upgrade, but the facility will feel refreshed, have more efficient features such as new boilers and generators, and has new equipment to better serve its customers.
December 2016 www.akbizmag.com unit and seventh-floor orthopedic and spine unit renovations, as well as the family birth center. Roger Hickel Contracting Inc. was the general contractor for the medical/oncol – ogy unit and the common area and hallway upgrades. Additional local contractors who worked on the hospital's extensive renovation include KC Construction, Superior Plumbing & Heating, and Haakenson Electric.
Bristol Bay Area Health Corporation P.O. Box130 Dillingham, Alaska 99576 Dr. Lecia Scotford, MD, MHA; lscotford@bbahc.org Executive Vice-President and Chief Operations Officer Testimony for the House Natural Resources Subcommittee on Indian, Insular and Alaska Native Affairs regarding H.R. 4289 May 18, 2016 The Bristol Bay Area Health Corporation (BBAHC) is pleased to appear before this Subcommittee in support of H.R. 4289, legislation introduced by Representative Don Young which would require the Secretary of Health and Human Services to transfer certain Indian Health Service (IHS) property to BBAHC by warranty deed. The property is critically important to BBAHC's construction and operation of a new free-standing dental clinic.
The BBAHC is in the process of constructing a new, modern, up-to-date facility that will be available later this year to provide significantly more dental services to BBAHC's 8,000 member service population. We note that Senators Murkowski and Sullivan have introduced a companion bill, S. 2421, and we thank our entire delegation for their support on this matter. Both bills also include a warranty deed transfer provision for the Tanana Tribal Council. BBAHC has for many years carried out a comprehensive health care delivery program at the federally owned Kanakanak Hospital compound in Dillingham. BBAHC has done so on behalf of its member villages in accordance with the Alaska Tribal Health Compact and Funding Agreements with the IHS under the Indian Self-Determination and Education Assistance Act (ISDEAA). These services include dental care.
The BBAHC reluctantly accepted the IHS quitclaim deed transferring title to the property in order not to miss last year's construction season. However, the quitclaim deed includes extensive terms and conditions that give IHS the right to approve mortgaging, encumbering, leasing, or otherwise transferring any interest in the property, or making major changes or capital improvements in the property. Any breach of these terms and conditions, such as not getting IHS permission for making changes in the property, triggers an immediate right of entry and reversion of title back to the IHS. These terms and conditions are characterized in the deed as covenants running with the land. Thus, for example, if BBAHC were to approach a bank for a construction or improvement loan, and as a consequence would have to enter into a deed of trust to secure the loan, IHS must give its permission.
The Secretary will retain any and all liability for environmental contamination in existence on the property prior to the transfer of title to BBAHC. Language is included to provide the Secretary with and easement and access to the property as reasonably necessary to satisfy any retained obligation or liability of the Secretary. Finally, the Secretary must comply with the notice of hazardous substance activity and warranty requirements of the Comprehensive Environmental Response, Compensation, and Liability Act (CERCLA).
Limit the Number of Communication Channels: According to a study published in, 'the' journal of hospital medicine stated that most doctors spend 25% of their time using communication channels. It's the sheer responsibility of hospital managers to simplify the communication processes by reducing the number of tools, and as they play a significant role in the effectiveness of hospitals. Dr. Lecia Scotford is a results oriented and experienced healthcare strategic planner. Skilled in communication, performance optimization, interpersonal ssing and implementing dynamic changes effortlessly.
Instagram followers numbers bot boost with growing advices? Keyword hashtags aren't the only thing you should pay attention to. The Instagram community responds to certain photo filters more favorably than others. Using these preferred filters can have an impact on your engagement. But more important than the general Instagram community's favorite filters, are your particular audience's favorite filters. Consider this custom graph which correlates filter usage to engagement from my own Instagram account: You can use IconoSquare to review the performance of your own account to understand what is and is not currently working for you.
Authentic content was a major trend for 2019 — and it's set to become even stronger in 2020! We're seeing tons of brands and businesses getting on board and showing a more honest, real, and vulnerable side to their brand and business, and getting huge engagement returns from it! A high level of authenticity can go a long way in building a stronger connection to your audience. When you can showcase the good with the bad, the struggles along with the wins, your brand will be more relatable to your audience. By switching her thought process to "caption first, and image second," it allowed Sarah Nicole to be more journalistic in her approach, while being able to share more vulnerable and authentic moments of her life with her followers.
You can also find more related hashtags and their popularity if you search for any of your target keywords directly in the Instagram app. You'll want to go through this exercise trying different keywords that describe your brand and products, building out your hashtag keyword list as you go. Keep in mind that Instagram allows for a maximum of 30 hashtags per post. Additionally, the popular words will change over time, so make sure you revisit your hashtag keywords every few months to make sure you're using the best possible terms. You can also steal hashtag ideas from competitors or similar accounts that have the kind of following you aspire to have, but you ultimately want to create your own groups of hashtags to use that relate to your specific account. Discover even more info at instagram story viewer.
If you want to get more Instagram followers in 2020 you need to pay attention to what your Instagram profile looks like as a whole. Your feed is the first opportunity you have to make a great impression and entice people to hit the "follow" button. And since your Instagram profile is becoming as important as your homepage, you want to make sure it looks on point. When someone visits your Instagram profile, they will decide in seconds whether or not to follow your business. How do they make that decision? By quickly scrolling through your feed, reading your bio, or clicking on your stories highlights. When it comes to converting visitors into followers, it's no longer just the editing style of your photos that need to be consistent.
Up and coming brands are constantly on the lookout for new influencers to help promote their company and products. After all, marketing is the lifeblood of just about any business. When companies are trying to pick out a handful of Instagram influencers for their campaigns, they also pay lots of attention to how much interaction your posts get from your following and the general niche audience of your profile. By the same principle as the social proof factor that we've mentioned above – when people see that your content has lots of real interaction, they're way more likely to follow your profile. In short, given that your profile looks popular, many people will follow you to stay up to date if they like the general breadth of content you put out. Read additional information at here.
Marketing agency Denver, CO? Initially, the term "search engine marketing" was used as an umbrella term for the process of gaining both paid and free search traffic. Over time, the industry switched to using the term "SEM", or Search Engine Marketing, solely for paid activities. So, what does this type of digital marketing mean? Search engine marketing refers to a form of digital marketing that aims at increasing the visibility of a website in search engines by using paid methods. In other words, it's the ads you put out there on Google AdWords and Bing Ads. You can recognize paid search results in Google by the little sign "Ad" at the beginning of the URL. Also, Google puts these pages first in the search results. By combining SEO and SEM, you can drive quality traffic to your website. With the help of search engine marketing, you can put yourself in front of the audience that is actively searching for services and brands like yours.
No one can doubt the popularity of YouTube so why not add a call-to-action feature on your YouTube channel. Thus, by creating a call-to-action on YouTube helps to direct viewers to take specific actions. Make sure to create at least one at the end of your video for your email sign-up link. Do you enjoy presentations or love creating slideshows? Then, it is one of the best ways that can help you to grow your email list. Just publish your Slideshare online and make it shareable so that people can use this information. Just make sure to add your opt-in link. People love to give feedback on what they know. Therefore, on your certain website pages, create a form asking the visitors to leave feedback. Or you can also ask them specific questions. Another option is to create a chat toll that requires an email address.
Brand Buddy is a digital marketing agency in Denver. Our goal is to be the one stop shop of essential digital marketing services. We work closely with passionate businesses that want to use the online space to reach their goals. We'll help develop a plan for success that integrates all relevant channels with a cohesive message to your audience. Our main focus is to generate meaningful results. We do this by employing the latest techniques in AI (artificial intelligence), SEO, Google Ads, social media posts, and high ROAS (return on ad spend) advertising. Our communication is miles above the competition and our collaborative approach truly makes a difference in your success. Discover additional details on social media marketing denver.
One thing is sure, local SEO is not that same as normal SEO, but where and how to start? What is Local SEO for? Local SEO is an act of optimizing your local business website so that you are found for the local searches in Google that are most relevant to your business. Even a more relevant question would be, what is local SEO actually? Local SEO is all about optimizing your website to rank better for local customers. It's an effective way to market your business online. But how? How does local SEO help? It works by promoting your products/services to the local audience at the same time when they are looking for them online.
Create Content Based on Local News Stories or Events: There's nothing quite like authoring content that speaks or relates directly to a local issue to grab your local customers' attention. Writing blog posts around local news stories, activities, or events; Creating videos about local charities or causes that your business supports; Setting up location-specific webpages on your website with high-quality local content if you serve different parts of a region. Let's say you're a local real estate business. You can create different pages, one for each of your locations, where you can feature hyperlocal content around news events or changes in the local real-estate market. This strategy could also help you get ranked for each specific location. Find more information at Denver marketing agency.
Handheld laser engraver manufacturer? CNC plasma cutting machine is also known as CNC Plasma cutter. Just as the CNC wood router and CNC laser cutting machine, the CNC Plasma cutter are also widely used for industrial cutting process. Before that, we must know what exactly does this plasma means. So, let's dig in. Plasma is the fourth state of the matter besides solid-state, liquid-state, and the gas-state. By heating water, we can change its state to gas. If we further burn gas, it will turn into the ionized form. Finally, we call it a plasma. As we have mentioned above, a plasma torch can cut only the electrically conductive materials. The materials are such as steel, stainless steel, aluminium, copper, brass, and some other conductive materials. We should note that we can not cut plastic, wood, or other non-metallic electrically non-conductive materials using the plasma torch.
As a professional laser manufacturer. We not only provide users with a variety of laser equipment including laser cutting machines, laser engraving machines, laser marking machines and laser welding machines. In addition, we also provide users with various configurations of CNC router machines to meet your arbitrary processing of metal and non-metal materials. We not only provide you with a variety of CNC products, we also have a comprehensive service system, whether it is about selecting machines, operating machines, maintaining machines and repairing machines, we have a professional team to answer your questions and solve your any doubts about the CNC machine. DXTECH has a professional R & D team with decades of experience in the laser industry and develops various types of laser equipment according to the actual processing needs of customers. These laser devices have not only been recognized by users at home and abroad, but also various international certifications such as CE certification, FDA certification, ISO9001 quality management system certification. Find additional information at https://woocnc.com/.
The CO2 laser cutting machine uses CO2 and other gas-particle as the laser medium and cuts objects. The CO2 laser cutting machine cuts the materials having the height in between 6mm to 20 mm. The higher the power can cut thicker materials. This laser system can cut any solid materials such as acrylic, wood, paper, metals, plastic, and all other elements. Find extra information on fiber laser engraver.
The fiber laser marking machine is a sensitive, powerful machine. So, before we use it, we must set up this machine properly. Generally, the providing company delivers a controlling unit with the power source and a working stage with the laser gun. We must not keep this machine in our house. If it is for the workshop, we can choose a specific place to set up this machine. We can use both desktop or laptop to control this machine. The USB port is available, so nothing to worry about. Let's point out the device. There are three switches on the controlling unit. One is to open the machine; one is to connect the Power and finally the switch to Power on the energy source.
The CO2 Laser engraver machine is highly precision instruments typically used to write, decorate, make logos on the surface of the material by engraving process. This engraving depth can be 0.0001″ to 0.005″. The CO2 laser machine can perform its operation on any hard materials, such as acrylic, wood, paper, metals, plastic, and all other elements. Depending on the power supply, there are types of CO2 laser engravers. But among them, 30W laser, 40W CO2 laser engraver, 50W CO2 laser are noteworthy. The CO2 laser system is a ninth-century invention; still, it's beneficial in engraving materials. It is prevalent than other laser machines. The design process is a little slow yet captivating. Find additional info on laser metal cutting machine.