So you bought the most desired game but it runs like garbage on your gaming system. You just find out a basic gamer lesson, check the game system requirements before purchasing a game! Let's see what are some of the cool latest games and some sys requirements for them.
Can you play it? PlatinumGames is known for its innovative and stylish action games, from the Bayonetta series to Metal Gear Rising: Revengeance and others. But the Japanese developer's greatest feat is Nier: Automata, led by renowned director Yoko Taro. Nier: Automata features some of the best action gameplay of this console generation, along with expert twin-stick shooting sequences and a world as bizarre as it is brilliant. Nier: Automata isn't just extremely fun to play, though. It also happens to tell one of the most well-realized, philosophical stories, revolving around existentialism. In a bold move, it takes three full playthroughs to watch the entire story unfold. While that may sound annoying, we promise it's a devilishly smart tactic. Video games often get lambasted for their weak stories, but Nier: Automata delivers on its vision in a way that very few games do.
Monster video strain resource game pick of the day : While Grand Theft Auto V isn't all that taxing on normal settings, if you crank it up to its absolute highest graphical settings and really lay on the extras (4K textures, high population variety, maximum distance scaling, etc.), the game can get pretty demanding. And, of course, let's not forget about the main draw of GTA V on PC: the mods. If you want computationally intensive mods that turn the cartoonish base game into a near-photorealistic interactive action movie, you're going to need computing horsepower out the wazoo, potentially more so than with any other game on this list. Before you tinker with your copy of GTA V, though, remember that Rockstar is awfully touchy about modding and might ban you from GTA Online if you toy with any component of the game. Recommended specs: CPU: 3.2GHz Intel Core i5 3470, 4GHz AMD X8 FX-8350 – RAM: 8GB – Storage: 72GB -GPU: Nvidia GTX 660 (2GB), AMD HD 7870 (2GB) – OS: 64-Bit Windows 7, 8, 10. Find additional info at System requirements.
I like Star Wars games and usually this games are resource intensive. Shadows Of The Empire's graphics haven't aged very well, but that shouldn't make it feel any less epic. The beauty of having the game take place between The Empire Strikes Back and Return Of The Jedi is that it lets you play out so many cool moments connected to those films, like the Battle of Hoth and the confrontation with Boba Fett. Admittedly, this one was kind of clunky to play when it first came out, but an HD remake could iron out the kinks. There have been so many released, it's difficult to remember that the LEGO games as we now know them kicked off in the Star Wars universe. Originally split across two titles, one focussing on each trilogy, LEGO Star Wars: The Complete Saga was the ultimate version pulling two sizeable games into one massive package. Shrinking down the epic galaxy to cutesy proportions, each key scene from the movies is charmingly brought to life in block form. It's packed full of unlockables and perfect for on-the-couch multiplayer with a young padawan in tow. A tie-in game done right.
If you were wondering if you could run PLAYERUNKNOWN'S BATTLEGROUNDS, we will help you to get the answer. In order to be able to run PLAYERUNKNOWN'S BATTLEGROUNDS, you will need a CPU better that Intel Core i3-4340 / AMD FX-6300, more than 6 GB RAM, a GPU that is better ranked than nVidia GeForce GTX 660 2GB / AMD Radeon HD 7850 2GB . Check the other system requirements for the game here : Playerunknown's Battlegrounds sys requirements.
Carbon fiber composite 3D printing latest news. 3D printing is a relatively new technique in the manufacturing world. Let's start with some examples, focusing on 3D printing applications in the modern world.
3D printing technologies that are used at construction scale include extrusion (concrete/cement, wax, foam, and polymers), powder bonding (polymer bond, reactive bond, sintering) and additive welding. 3D printing in construction has a wide array of applications in the private, commercial, industrial and public sectors. Advantages of these technologies include allowing more complexity and accuracy, faster construction, lower labor costs, greater functional integration, and less waste.
Take a minute and think about what you were doing at 13 years old. If your answer is something like picking your nose and barely passing Algebra, prepare to feel very inadequate. The cyborg-glasses pictured above are a sort of DIY-Google Glass type of thing – created by a 13 year old. He 3D-printed the glasses frames and combined them with some other high-tech gear to create his very own pair for under $100.
Searching for 3D printing services in Denver? At our disposal is the latest technology in 3D printing from Markforged. Our printer has the ability to directly incorporate fiberglass, Kevlar, and carbon fiber into each part, and depending on the application, can produce parts that are on par with machined aluminum components. The versatility of our machine is unmatched in the current landscape of 3D printers. Whether it's bringing your product to life, or helping you design, model, and 3D print a jig for a complex machining project, we've got you covered. We leverage a decade of product development experience to make your vision a reality, and help you achieve your prototype and production goals. Read more details at Product Development Services.
One of the largest growth areas in 3D printing is the replacement parts industry. One of the reasons for this is that parts can be printed on demand without the need for storing them in a warehouse. Plus, if a part is no longer manufactured, the replacement can be designed and printed fairly easily, compared to other manufacturing processes. The replacement parts industry is undergoing tremendous change because of additive manufacturing. You are now able to simply download and print a replacement part on your home 3D printer.
Geoff is an industrial designer with ten years of product development service and mechanical design experience. He received his bachelors degree in Industrial Design from Philadelphia University, and has Solidworks and additive manufacturing certifications.
Source: http://maxkohldesign.com/.
Let's start with the obvious question : what is Utopia P2P network ? Utopia is a decentralized peer-to-peer network, with no central server involved in data transmission or storage. The network is supported by people who use it and deliver high-quality features and perfectly smooth user Interface that offer a lot of value.
Utopia is a breakthrough decentralized P2P ecosystem with no central server involved in data transmission or storage. Utopia allows users to send instant text and voice messages, transfer files, create group chats and channels and make and accept payments denominated in Utopia's minable crypto currency Crypton. To learn more about Utopia and to sign up for its beta please visit https://beta.u.is/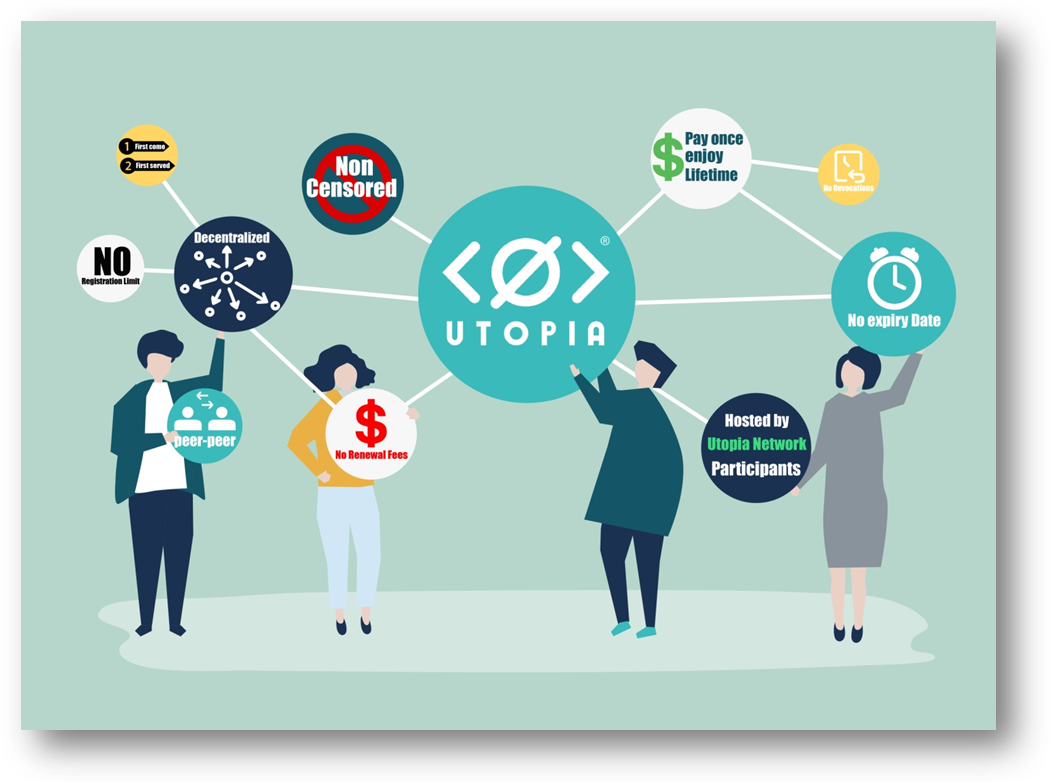 Questions on Utopia P2P network. Each user manages their own computer. This means that a network manager is not required/Security, anti virus and back up are down to the individual user
1.Dashboard
The Dashboard is the Home page, designed to provide access to all functions available in Utopia Software.
Features : Chat, uMail, Profiles, Channel, Mining, uWallets, Geotagging and uMaps, Built-in Idyll browser, Utopia Network.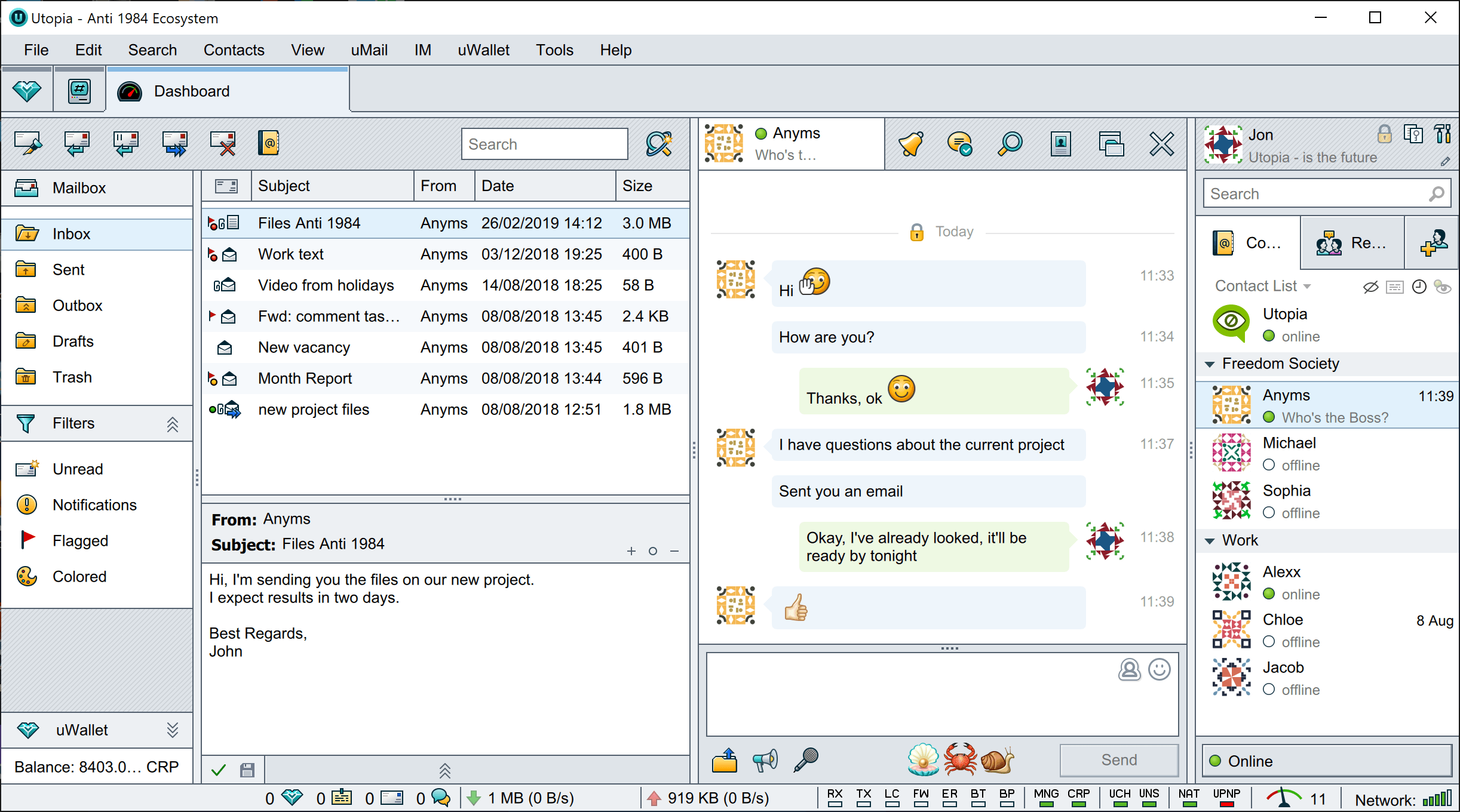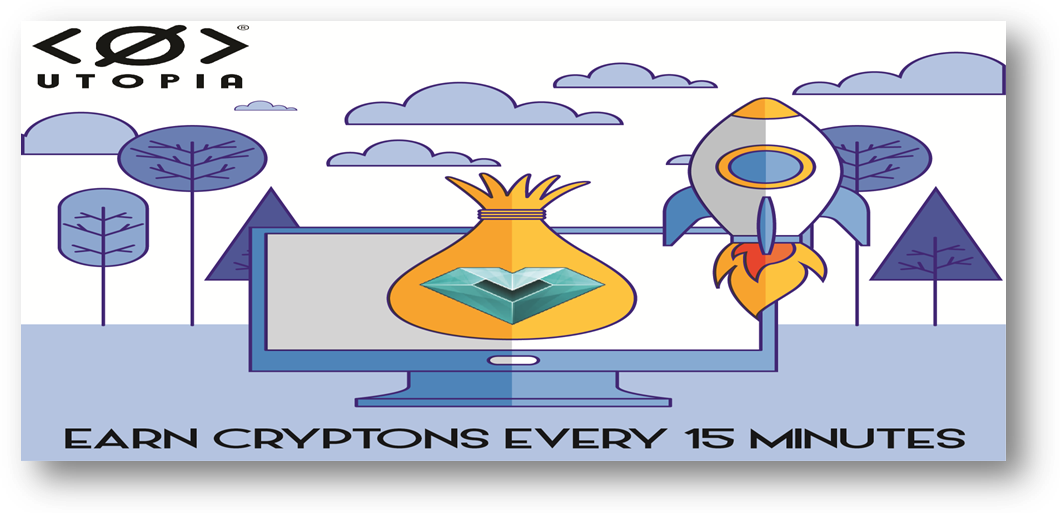 Peer-To-Peer and P2P Networks: Internet-based peer-to-peer networks became popular in the 1990s due to the development of P2P file-sharing networks such as Napster. Technically, many P2P networks are not pure peer networks but rather hybrid designs as they use central servers for some functions such as search.
2.Chat
Utopia Chat send instant text and voice messages to Utopia users.
Features : emoticons, Texts, voice message, stickers, send file, add contact, Notification.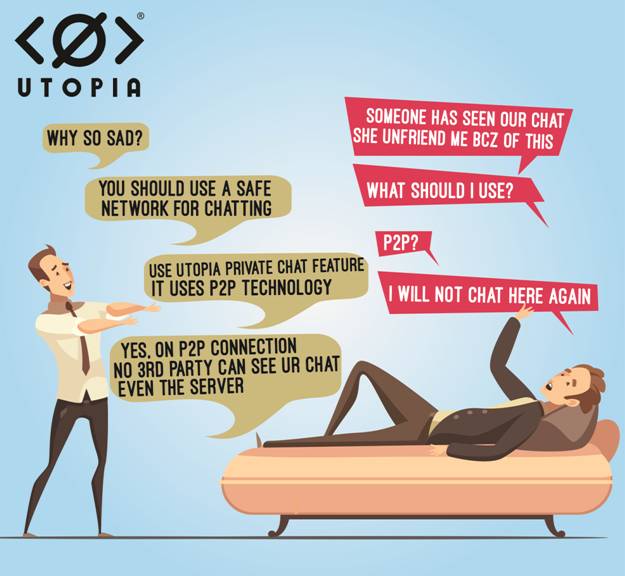 A message can be sent to any user in your contact list.
" Voice Massage" – When you are ready to record a message, click "Start Recording".
" stickers " – send the stickers in chat;
"Send File" – allows you to send a file;
"Search" – allows you to search through your communication history;
" emoticons " – Add emoticons to the chat;
Utopia Chat you can send instant text and voice messages, transfer files, create group chats and channels, news feeds and conduct a private discussion.
In a way, peer-to-peer networks are the socialist networks in the world of computing. Each peer is equal to the others, and each peer has the same rights and duties as the others. Peers are both clients and servers at the same time. Furthermore, every resource available in a peer-to-peer network is shared among the peers, without any central server being involved. The shared resources in a P2P network can be things such as processor usage, disk storage space or network bandwidth.
3. uMail : Utopia Mail
uMail can be sent to Utopia users. you can share Text and file Attachment. you can use this Umail like Email. Its very easy to use for all and also your data privacy more strong's compare to Other Mail system. In the Umail you can use variety of features like below. No servers are used for mail transmission or storage. uMail account, that is created in a minute, enables unlimited messaging and attachment storage.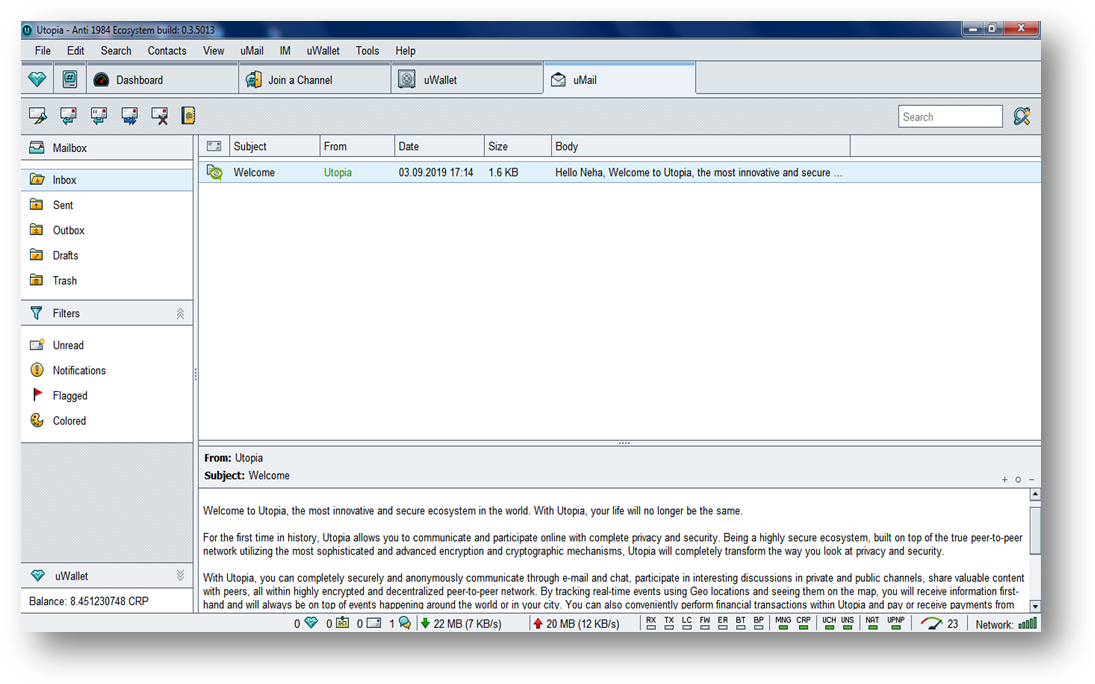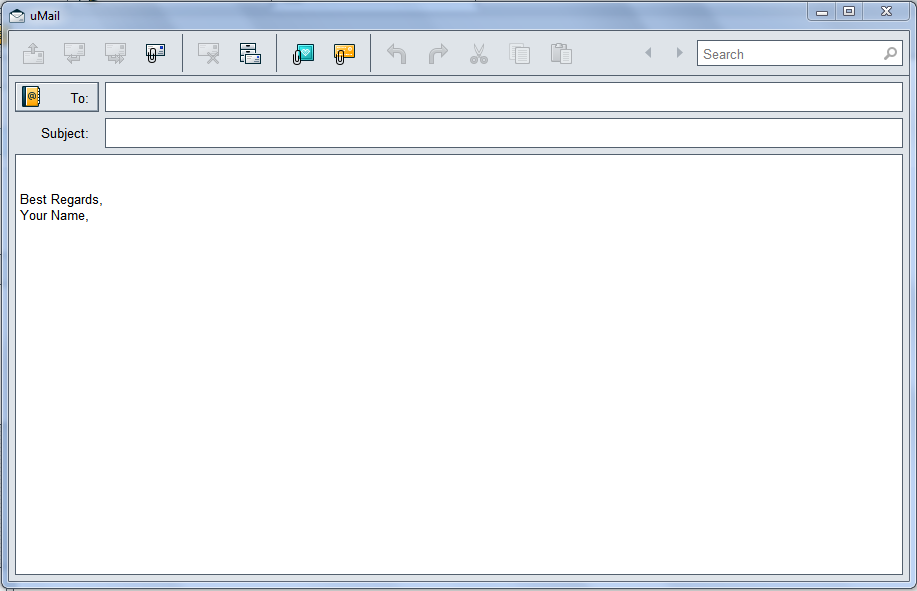 4.Profile
this is use for your personal details like First name, Last Name etc.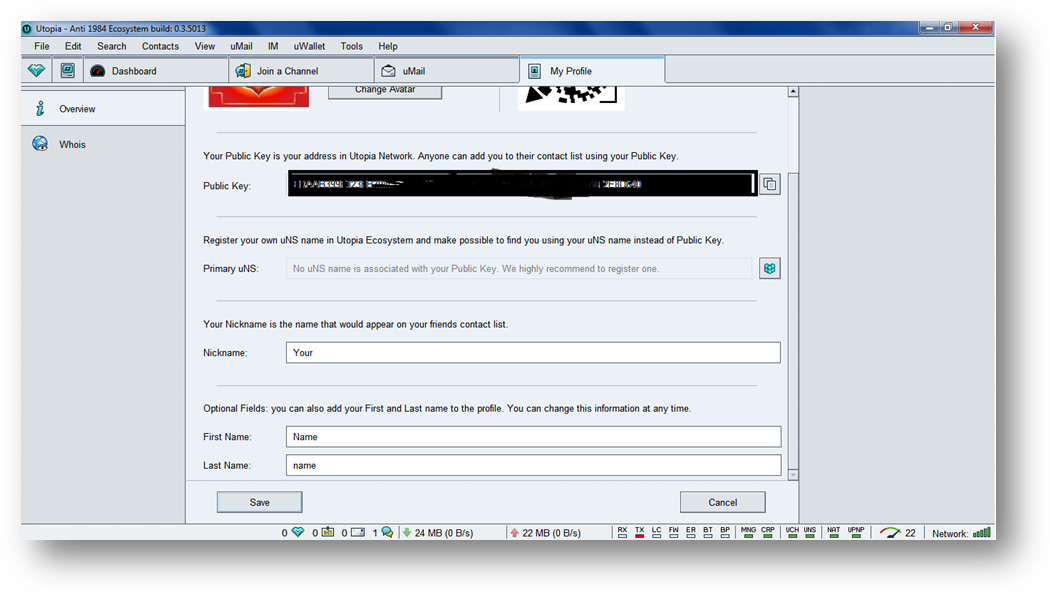 Your Public key is a unique identifier within Utopia which is assigned to newly registered users. Like this,
08E1E006C3444ADA712CF4BBC897672B317565738B48E82A84D5F73A4AD85F66
Public Keys are used to add users to contact lists, and Your uCode is your encoded Public Key.
5.Channel :
Channel is a tool for broadcasting public messages to large audiences and engaging in group discussions.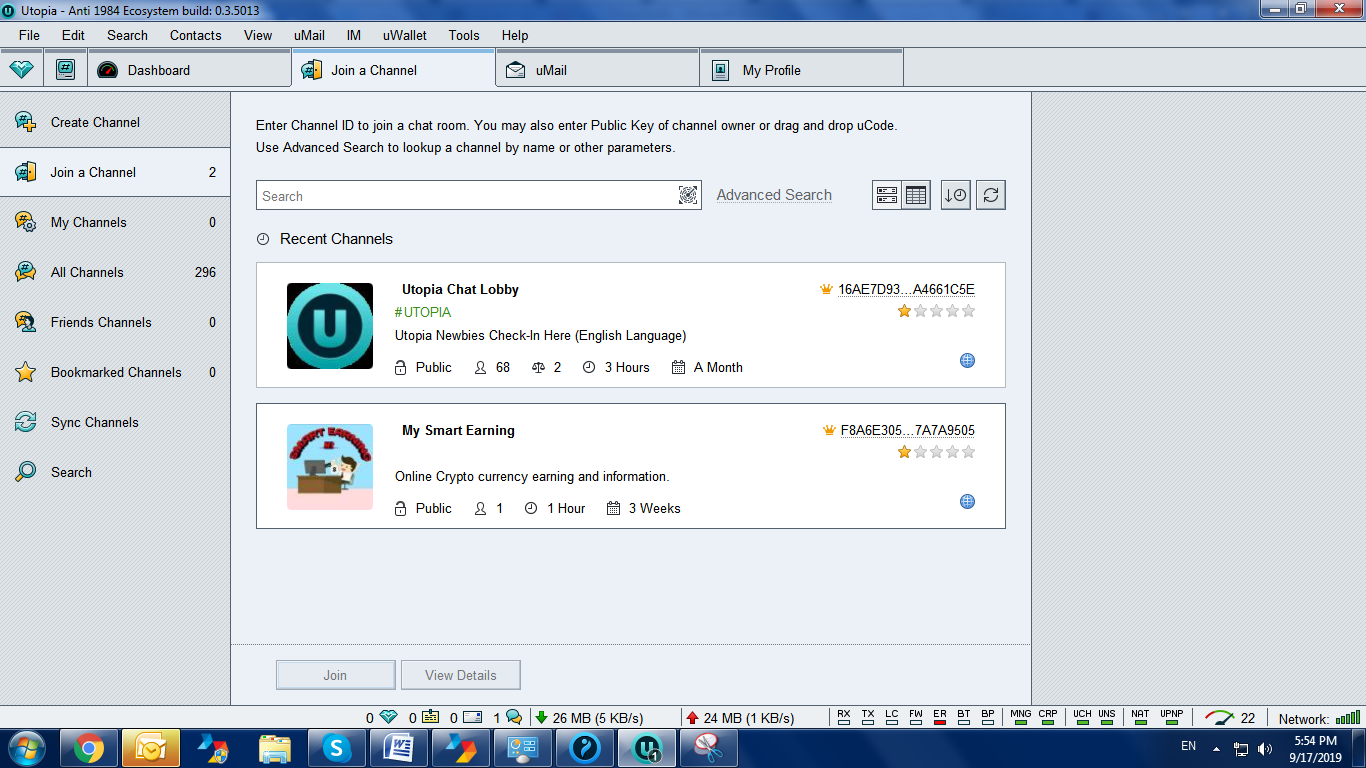 6.Crypto Mining :
Crypto is a payment unit of Utopia ecosystem. It is a decentralized crypto currency. Utopia Provides personal Currency in Rewards. Crypto currency mining is a process by which new coins are introduced into the existing circulating supply. Utopia rewards users that support the ecosystem through mining by emission of new Cryptons. When you run Utopia or a mining bot you will receive your share of the collective mining reward. The more time your Utopia client or bots spend online, the more reward you will earn. Utopia is to promote the stability of the ecosystem.
Minimum mining system requirements:
– 64-bit operating system
– At least 1024 MB of free RAM (2048 recommended)
– Internet connection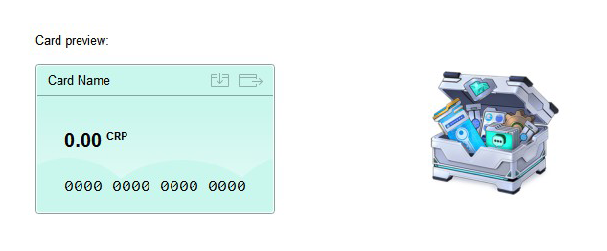 And also Utopia provides personal Crypto Card to specific Users for Earnings. uWallet is Utopia's built-in wallet that makes payments in Crypton possible. Crypton is Utopia's own cryptocurrency.
7. Geotagging and uMaps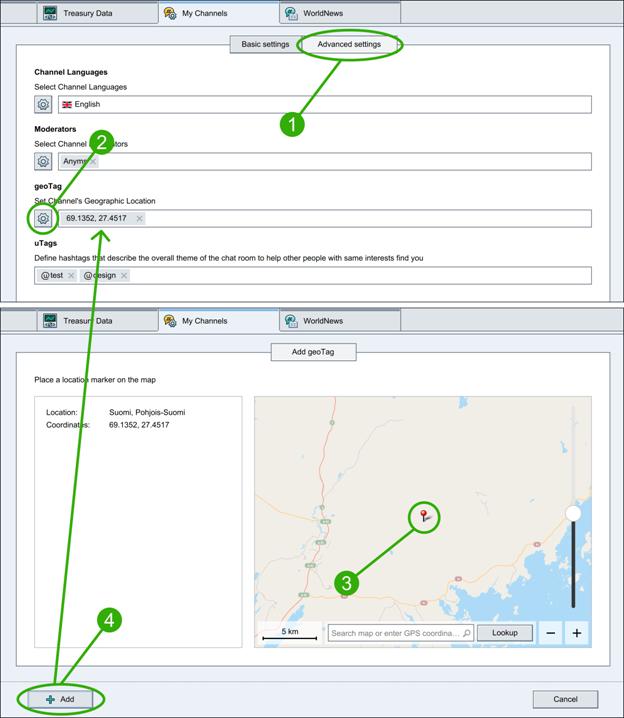 GeoTag is an electronic tag that assigns a geographical location to Utopia channel. When you create a channel you have an opportunity to assign a geoTag so that fellow Utopia users can easily find you channel using uMaps.
8.Utopia Network
Utopia is a decentralized peer-to-peer network, with no central server involved in data transmission or storage. The network is supported by people who use it. Utopia Network is based on Peer-to-Peer (P2P) technology. Network settings are available at "Tools" – "Settings" – "Network" tab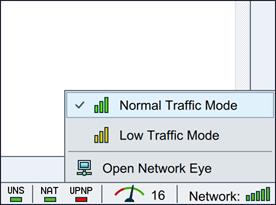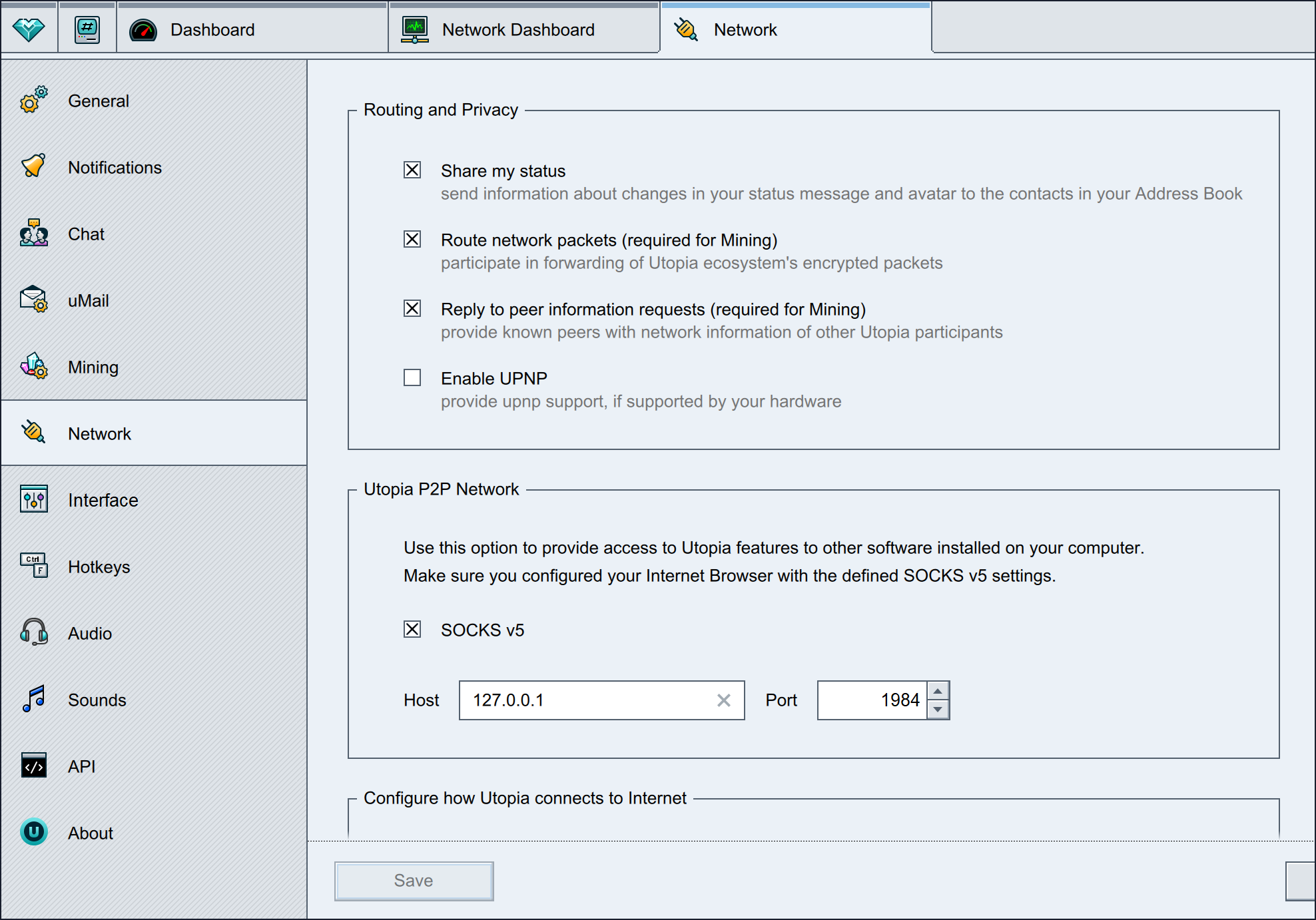 9.Built-in Idyll browser
Utopia ecosystem is based on its own peer-to-peer (P2P) network. Among other things, the network enables you to host and transmit to fellow Utopia users any websites or web services. Idyll browser is a built-in browser used to surf web resources within Utopia network. It is based on the latest Tor browser. As the Tor browser is a collection of patches for Firefox, we used some of those patches to create a secure browser for Utopia network.
Enter http://utopia at the address field of your browser
If the http://utopia does not load, please refer to What if I encounter an error?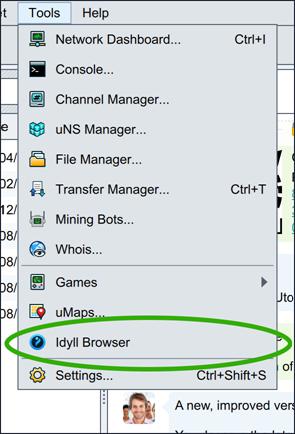 10.Utopia Multyplayer Games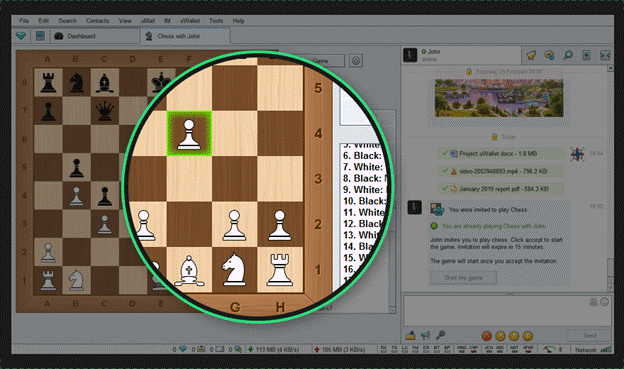 Chess is a two-player strategy board game played on a Utopia with 64 squares arranged in an 8×8 grid. The game is played by millions of people worldwide. Chess is believed to be derived from the Indian game chaturanga sometime before the 7th century. you can Play chess with multiplayer on Utopia Software.
Play chess online against a computer opponent or a friend. Improve your skills – Play free Chess – Chess game on Utopia Network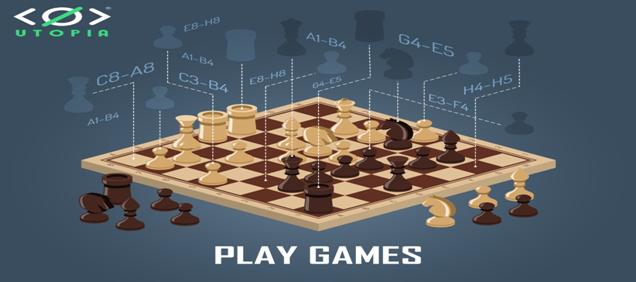 11.uNS registered names
uNS is a decentralized equivalent of a classic DNS. DNS is subject to pressure and censorship from less than perfect international laws. Domains can be revoked or suspended due to multiple reasons, such as non-response to whois inquiry or other register policies, non-payment, government actions and so on.
The Domain Name System (DNS) is a pseudo-distributed directory that resolves human-readable hostnames, such as www.domain.com, into machine-readable IP addresses like 84.91.19.84
A UNS record is a database record used to map a URL to an IP address. UNS records are stored in UNS servers and work to help users connect their websites to the outside world. When the URL is entered and searched in the browser, that URL is forwarded to the UNS servers and then directed to the specific Web server.
uNS name can be also assigned to one of your Channels to make them easier to be found by other people.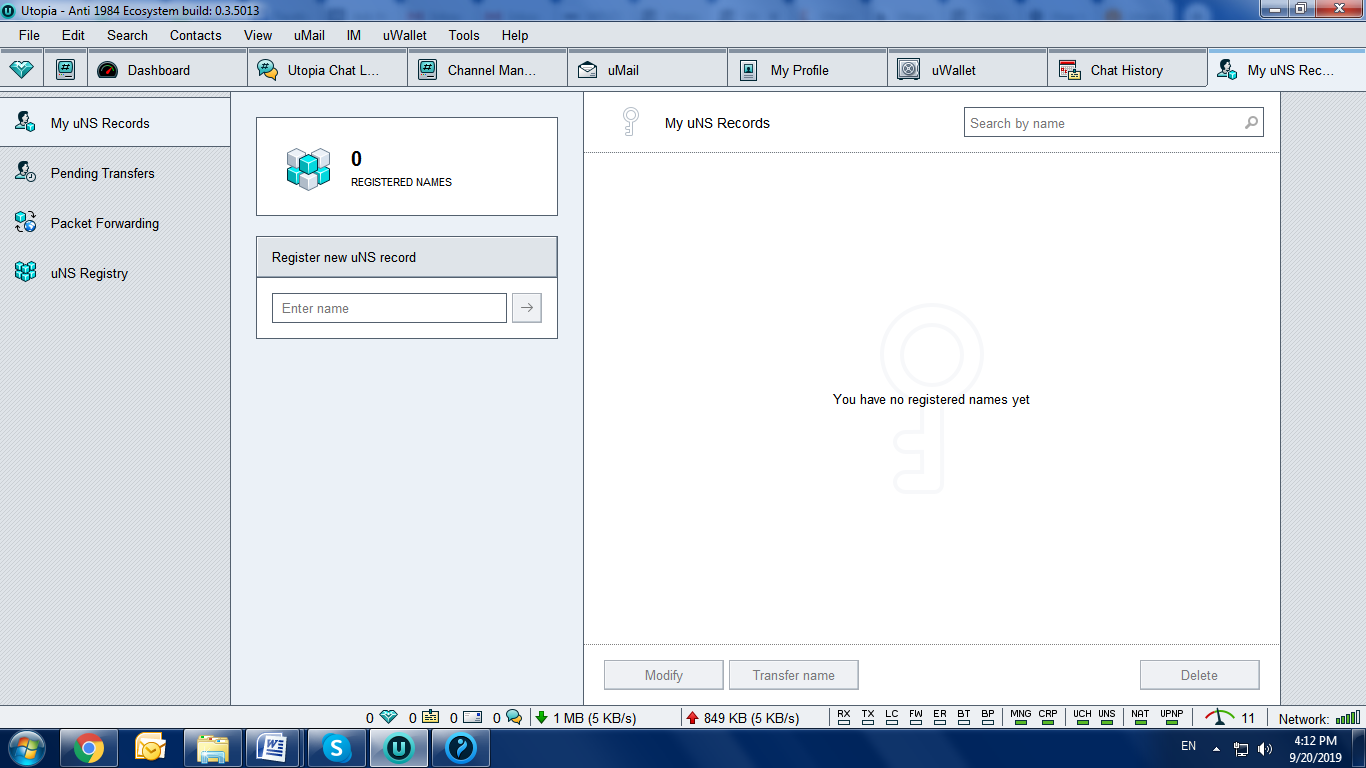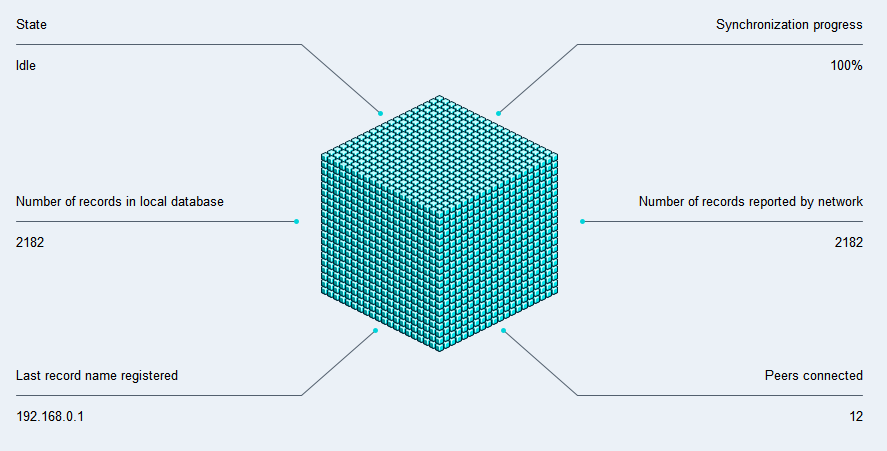 12. Umaps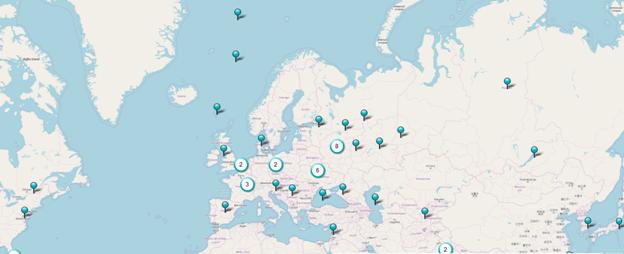 13. Sortcut Keys for Utopia
– Open Settings Window: Ctrl+Shift+S
– Send File in Chat: Ctrl+D
– Add a New Contact: Ctrl+Shift+A
– Search in Chat: Ctrl+F
– Open History Window: Ctrl+Shift+F
– Delete All Chat History: Ctrl+Shift+L
– Wipe Encrypted File Container: Ctrl+Shift+C
– Start a New uMail: Ctrl+N
– Send uMail: Ctrl+S
– Open Network Eye Window: Ctrl+I
– Open Transfer Manager Window: Ctrl+T
– Lock Application: Ctrl+Alt+L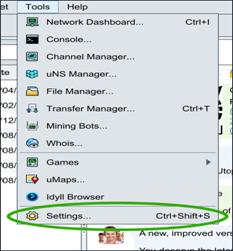 14.Voice Chat in Utopia
Voice chat is telecommunication via voice over IP technologies—especially when those technologies are used among players in multiplayer online games. Players might use either a VoIP engine system that is built into the game, or a separate program in Utopia.
Now in New Updates of Utopia you can start voice chat with Utopia Users.

15.Dark Theme In Utopia
The Utopia developers have created a beautiful theme for lovers of dark colors and for those who work at night, enjoy!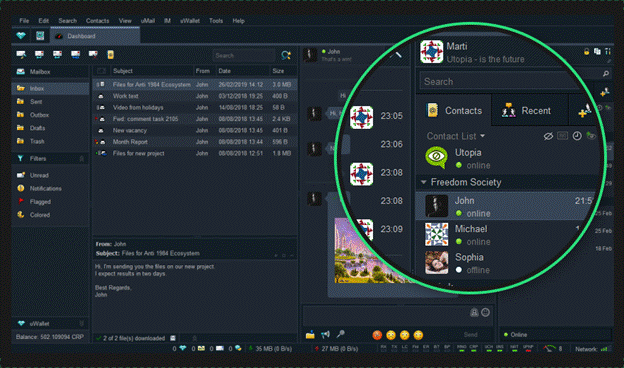 Utopia has been developed by a group of networking technology enthusiasts over the last 5 years. To eliminate any impact on the project, developers of Utopia will forever remain anonymous. We will not be able to alter the algorithms of the ecosystem once it has been launched.
Utopia is an instrument that will return the freedom of expression back into your life. It is time to take privacy of communication into your own hands!
Please Like ,share and comment with your friends.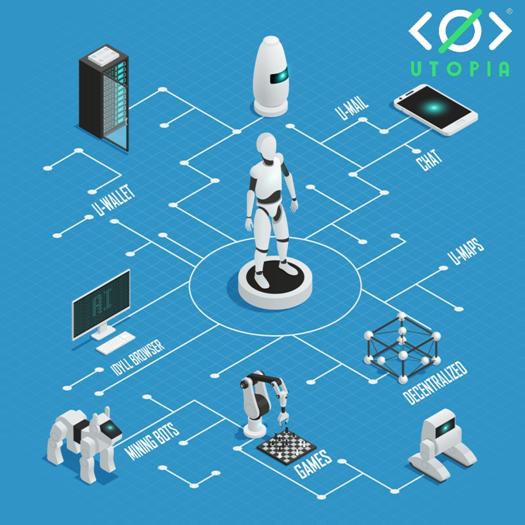 Working with large quantities of information? You know the desperate moment when you realize that you need some files that you deleted a long time ago. This is the subject of this post : Top methods to recover lost data from WD external hard drive. 1st lets start with some general data recovery tips, valid for all type of data devices, PC's, Mac's, phones.
Don't buy cheap storage devices. eBay is filled with SD cards, hard drives, and thumb drives that cost merely a fraction of their brand-name counterparts. They may seem like a great deal, but they rarely are. Manufacturers of these cheap storage devices often use discarded components that failed to pass strict quality-control requirements of renowned manufacturers. Unless you like playing with fire, avoid them at all cost.
It's a bit simpler on a Mac, using an intimidating-sounding tool called target disk mode. You connect a nonworking Mac to a working Mac and treat that nonworking Mac like a big USB drive. This can be useful if, for example, you need to get files off a computer with a screen or keyboard that doesn't work. Connect the two computers with a USB-C, Thunderbolt 2, or Firewire cable. On the broken Mac, turn it on, and press and hold the T key while it starts up. Or, if the Mac is already turned on, go to Apple (on the upper left of the screen) -> System Preferences -> Startup Disk -> Target Disk Mode.
Is the drive sounding normal but is not detected or detected with the wrong capacity? This indicates a problem with some area of the firmware. For drives manufactured a few years back, there was a DIY solution for it. However, modern drives with this problem need to be sent to a data recovery service center to be repaired.
Data loss can be due to a number of factors, but two are the most common. The first (and easiest to resolve) is software related. You've accidentally deleted an important folder and emptied the recycle bin, or gone and formatted the wrong drive by mistake. The second—and probably most common—cause of data loss is a fault with the hard drive itself. Given the complexity of modern drives it's no wonder that somewhere along the line something will go wrong. When the drive suffers from some form of failure there's often little that you can do yourself to get the data back—professional data recovery services are usually required. However, there are certain failures that you can attempt to resolve yourself.
Modern solid state drives (SSDs) in newer portable computers are much more difficult to access. These laptops are built very thin, and reaching the casing screws is sometimes impossible. Even if the case can be opened, many of these drives are inaccessible and sometimes even soldered directly onto the other components, so removal is virtually impossible. If someone has an SSD laptop that's inoperable and contains important data, then the only viable option is to send the machine to a specialised shop. This company will open the device in a clean room and have the right sockets to match to the laptop's proprietary connectors. While such recovery is usually successful, it could potentially cost thousands and will require a considerable amount of time.
Why Do Your Data Recovery can find all deleted files which were deleted long time ago? It offers advanced recovery mode to deeply scan your hard drive or device. If you can't recover all deleted files which were deleted long time ago, just try advanced recovery mode to find all your lost files. Read extra info on Deleted file recovery.
Blogging is hot right now, many people are wanting to start a blog. Here are some things you need to know regarding what is a good blog site to start. 1st we discuss about free blogging websites and after we discuss about self hosted blogging methods.
Firstly, it is important to know how to evaluate the speed of your website. Generally, websites load in 7 seconds on average, but your goal should be less than 3 seconds. This ensures users are satisfied with a snappy website. There are a number of great tools out there for testing website speed, with the best options being GTmetrix and Pingdom. These free-to-use tools provide overall performance scores, page details, and in-depth speed reports. In other words, they are just the sort of tools that help you to determine where to focus your website speed optimization efforts. I usually use GTmetrix for evaluation due to the clear information and clean user interface provided. Just register a free GTMetrix account to access more functionality e.g. different test server region. More information about website speed optimization.
Like Weebly, Wix is an intuitive site builder that lets you integrate a blog at the click of a button. Put simply, Wix is one of the best blog website builders around. It's not hard to see why the Israel-based company boasts over 100 million users. You can launch a blog with your Wix site on any plan, from the Free plan upwards. However, to connect your domain name you'll need to sign up to the $5/month Connect Domain plan. And, to get rid of Wix ads, you need to be on at least Wix Combo, at $11/month. As with Weebly, we'd recommend upgrading to a more advanced Wix account to get your own domain and get rid of adverts. It's a small price to pay to make your blog look professional. The more professional your blog, the more readers will trust you. Think about it. When you go into a book shop, would you pick up a book that had adverts stuck all over the front cover and different authors' names on it?
Describing itself as a "blogging platform designed to help you think", Svbtle is fairly similar to Medium in approach. Like Medium, it strips everything right back, resulting in a bold, stylish experience that pushes words to the fore. It could easily become your favourite blogging platform for the act of writing, but it again relies on you also wanting something extremely simple and not caring a jot about customisation.
Another blogging platform that is great for businesses who want to maintain a blog on their website is Weebly. This platform provides a wide range of easy-to-use features, including drag and drop options for those who do not want to learn coding to make simply changes. Since Weebly can be used for blogging and web building, business owners find this platform a lot easier to use than other platforms where blogs and websites are created separately. Expert coding options are also not available on this platform. If you are a blogger who wants to be able to change and customize HTML or CSS on the blog, this Weebly makes it difficult to do so because it focuses its services on those who want to quickly create and update a blog without a lot of hassle.
There are two main benefits to using a self-hosted format, as opposed to the free version at WordPress.com. Self-hosted blogs have much more freedom when it comes to customizing the look and feel of your website. You can use any template you like and you'll use your own domain name, for a more professional feel. Self-hosted blogs also allow for advertising, which can help off-set the costs associated with blogging. You can't run ads on a free blog from WordPress.com, which is why I eventually had to transfer my blog from free hosting to self-hosting. Transferring is such a hassle, I wish I had just started with self-hosting in the first place! You couldn't learn how to swim really without getting into water, could you? And you couldn't learn how to drive a car without actually getting behind the wheel! Blogging is a little like driving; you can read articles telling you how to drive for weeks, but nothing can prepare you for the real thing like getting behind the wheel and hitting the open road. Many things in life require direct practice to be learned. If you've once decided to have a blog, avoid wasting your time thinking to learn. Start your blog in the first place and learn directly while you can! The sooner you start, the sooner you progress and reach your goals. Don't let your fear of making a mistake stop you from making anything at all.
There are many tutorials and resources available on the internet that will help you set up a WordPress blog. Here are some of the tutorials I've written which you can use to guide you through the process of installing WordPress and setting up your blog: How to Install WordPress on Bluehost, 8 Essential Settings After Installing WordPress,How to Generate Sitemap for a WordPress Blog,.. Best WordPress SEO Plugins. You can easily follow our DIY guides above to get everything done.
This is a blog about the Complete WordPress Builder Guide which is solely managed by me alone. This is the first blog in my life. I wish this could be a successful blog which you guys like. A bit about myself. I'm a web developer, a mobile app developer and also a WordPress website developer. I have about 8 years experience in the software development industry. I truly love programming and started my development life since I was in university. The reason I started this blog is that I found out that not every business owner / blogger / seller can afford to hire a developer to build a website for themselves. By using the traditional html web development method is even more costly and difficult to manage. More about click here.
There are many gaming laptops offers in 2019, because of this i think any potential buyer should study the market a little before buying and laptop. Let's see a few of the best laptops in 2019.
Walk down any laptop aisle, and you'll notice that the selection of laptops has become dramatically thinner and sleeker over the last couple of years. Each of these wafer-thin systems represents a new vision for ultraportable computing: a no-compromises laptop light enough that you'll forget it's in your briefcase, with a long-lasting battery that will keep you working even when no power outlet is available. Fast storage, including 128GB, 256GB, or 512GB solid-state drives (SSD), or more affordably, 32GB to 64GB of slower eMMC flash, gives these ultraportables the ability to resume work in seconds after being idle or asleep for days. A significant slice of this market now belongs to convertible-hybrid laptops and detachable-hybrid tablets, often called "2-in-1" devices (see the next section for more information), but ultraportables are still a distinct category.
Microsoft's second attempt at a pure laptop device is an absolute winner in our view, and while it doesn't represent a huge overhaul of the original Surface Laptop, it offers improvements in all the areas we were hoping for, including updated hardware that brings serious performance benefits. This is a laptop that finally delivers on what Microsoft set out to do with the original: a pure, powerful Windows 10 laptop experience. If you're not sold on the 2-in-1 nature of the Surface Book 2 (which is also on this best laptops list), but love Microsoft's premium build quality and design, then the Surface Laptop 2 is the laptop for you. A very worth addition to this list.
If you need a Windows laptop for home, work, or school—and you can't afford to spend a lot—you can find a good one for $450 to $600. They're ideal for K–12 students, people on a strict budget, and people who use their computers mostly at home in the evenings for schoolwork, Web browsing, managing a budget, or watching Netflix. Cheaper, lighter laptops tend to be too slow to recommend, while faster, sleeker ones usually cost too much. To get a laptop that doesn't feel slow for a decent price, you'll have to make a lot of compromises. Most budget laptops with decent specs have 15-inch screens, weigh 5 or 6 pounds, and have much shorter battery life compared with ultrabooks. And because some budget laptops use a traditional hard drive instead of a solid-state drive, they feel slower than an ultrabook with the same processor and memory. See more details at best laptops.
The MacBook Air 2018 is a long-awaited refresh of Apple's line of lightweight laptops, which, since 2015, had only seen tiny, iterative updates instead of big leaps forward. The 2018 line-up brings a 2560×1600 Retina Display screen, which boasts fantastic levels of colour accuracy and decent levels of brightness and contrast. There's Touch ID, which lets you unlock the MacBook Air with a tap of your finger, and the T2 security chip, which encrypts your files on the go. The stereo speakers also offer sound quality that's among the best of any laptop we've seen recently. For everyday use, the battery gave us 9-10 hours of power, too. Downsides include the fact that you get just two USB-C ports. They support the Thunderbolt 3 standard, so you'll be able to charge and transfer files quickly and hook your Air up to all manner of monitors, drives, eGPUs and other accessories, but, when you're working on the go, this will be very limiting.
Today Digimarc Corporation (NASDAQ: DMRC), inventor of the Digimarc Discover? platform featuring the imperceptible Digimarc Barcode, announced the company has been recognized for driving innovative solutions into the retail sector. Digimarc is named by ABI Research as a Smart Retail Hot Tech Innovator for 2017. The company was also recognized in IEEE Spectrum for its intellectual property, ranking third for its patent portfolio in the computer software category behind only Microsoft and VMWare, and ahead of software powerhouses including Adobe, Citrix, Oracle, SAP and Symantec.
"Our vision is to enrich everyday living through our patented technologies and applications such as Digimarc Barcode," said Bruce Davis, chief executive officer, Digimarc. "We have a long tradition of technology innovation and a computing platform that enables future application development and growth by our customers and partners. It's gratifying to see this recognition of our industry-leading innovation."
ABI Research identified solutions and innovative companies that are enabling a retail revolution. According to the firm, the selection criteria for "retail hot tech innovators" identified the companies that are the fastest growing in the retail technology industry based on the number of implementations internationally, and the amount of funds raised from capital investors that will continue to fuel their growth.
In "Patent Power 2017," IEEE Spectrum reports on intellectual property from leading companies. Its Pipeline Power rating ranks patent portfolios by number of U.S. patents granted in the most recent full year (2016) and quality, as measured by statistical assessment of important qualities such as growth, impact, originality and general applicability.
Additional information about Digimarc Barcode can be viewed here.
About Digimarc
Digimarc Corporation (NASDAQ: DMRC) is a pioneer in the automatic identification of everyday objects such as product packaging and virtually any media, including print, images and audio. Based on the patented Intuitive Computing Platform (ICPT), Digimarc provides innovative and comprehensive automatic recognition technologies to simplify search, and transform information discovery through unparalleled reliability, efficiency and security. Digimarc has a global patent portfolio, which includes over 1,100 granted and pending patents. These innovations include state-of-the-art identification technology, Digimarc Barcode, as well as Digimarc Discover? software for barcode scanning and more. Digimarc is based in Beaverton, Oregon, with technologies deployed by major retailers and consumer brands, central banks, U.S. states, film companies and professional sports franchises, among others. Visit digimarc.com and follow us @digimarc to learn more about The Barcode of EverythingT.
SOURCE Digimarc Corporation